I have worked really hard, and I am now granting you the ability to slow down and speed up time! With great power comes great responsibility... Actually, you can only slow down and speed up videos... not time in general.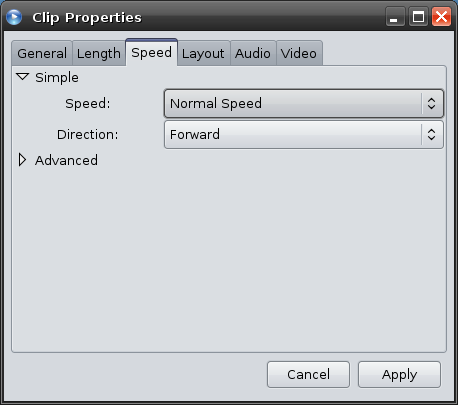 [OpenShot speed settings for a clip]
You can choose between 1/16 speed all the way to 16x speed. If you need more precision than a simple dropdown, use the Advanced mode. Also, the advanced mode can go slower than 1/16 and faster than 16x... if you need that.

Unfortunately, when you are not in "Normal Speed", there is no audio support. In other words, you can't slow motion audio or speed it up yet. This is a MLT limitation, but they are aware that this feature is wanted / needed.

When you slow down the speed of a clip, it increases the size of the clip on the timeline. When you speed up a clip, it decreases the size of the clip on the timeline. Make sense? Oh yeah, if a clip is going to increase in size, the OUT is magically adjusted to remain the same as before, so it won't go and overlap other clips to the right. But because the clip IS longer now, you can still adjust the OUT with the resize tool, or with our new advanced trim controls!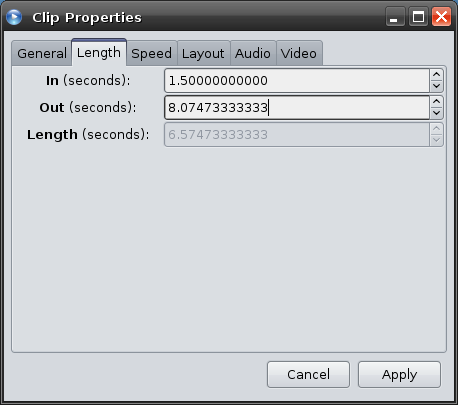 [Set the length of a clip with great precision]
The "Length" tab on the clip properties window lets you adjust the IN and OUT with great precision. Maybe too much precision! However, if you decide you only want to hear the audio of a clip, or only see the video, you can use the "General" tab on the clip properties window. These are the same toggles that are available on the timeline (i.e. the icons on the clips).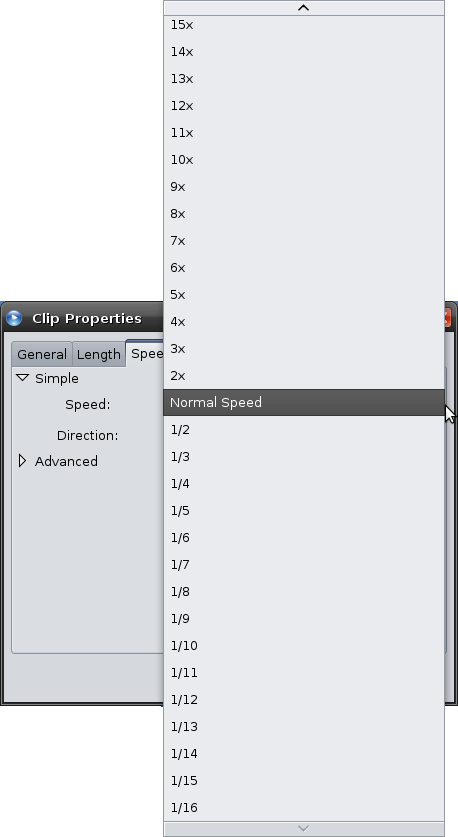 [OpenShot allows you to go between 1/16 speed to 16x speed]

You can also set the direction of a clip (forward / reverse). Although... just a warning, this seems a bit buggy with MLT. Especially if you slow down a clip, and then set it's direction to reverse.

If all these new features aren't enough, I have improved the auto-compositing capability of OpenShot to include all tracks (including the bottom track). What does this mean? It means that you can now key-frame, animate, transition, fade, mask, etc... any clip, on any track. A clip won't freak out anymore if there is no clip below it on the timeline. If you still don't understand, just know that this is really cool, and it will help you. =)

Tomorrow is our last feature announcement in this marathon. I am getting very close to a version 1.0 release. With the "official" release, there will be .DEB installers and hopefully a PPA. Thanks again for the support! I really love reading all of the comments, and it gives me a lot of motivation to keep on going. Stay tuned...